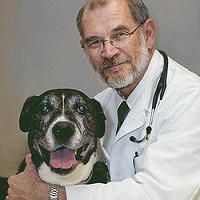 Dr. Ernest Godfrey decided to become a veterinarian at the young age of 11. After graduation from high school he attended the University of Florida to study for his pre-veterinary work. He went on to receive his doctorate in veterinary medicine from Auburn University College of Veterinary Medicine in 1968.
Dr Godfrey settled in Pinellas County and opened Pinellas Animal Hospital in 1973 with the goal of serving companion animals in the Pinellas Park area. In 1990 he opened Seminole Boulevard Animal Hospital in Largo. Through continuing education, both he and his staff keep abreast of new advances in veterinary medicine.
Since graduation, Dr Godfrey has been very active in both veterinary and community activities. He has served the Florida Veterinary Medical Association in many capacities, beginning in 1987 as Treasurer and as President in 1993 and 2005. He was recognized as FVMA Veterinarian or the Year in 1990 and as Pinellas County Veterinary Medical Society Veterinarian of the Year in 1992. He was also recognized by the FVMA with the Gold Star Award in 1980 and 1988. Dr Godfrey sits on the board of directors of the Central Florida Academy of Veterinary Medicine and on the FVMA Veterinary Technicians Committee. He also serves on the board of directors of the Pinellas Animal Foundation which focuses on educating the public about proper pet care.